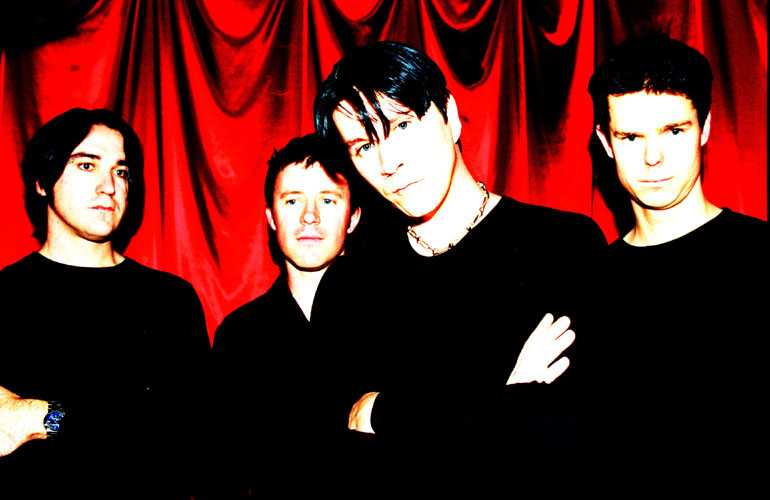 photo by Chris O'Halloran
Ikey Mo News...
May 8th 2003
Hidey ho rock kids. welcome to the rip-snorting, darn tootin' spiritual home of all things Ikey Mo! Sorry we haven't kept the site as up to date as we could have recently, but all thats a thing o' the past.
Firstly a mighty big thanks heads out to RTRFM for the priveledge and honour of playing this years In The Pines fundraiser. A fine and righteously rockin' time was had by all in camp Mo and we hope similarly cool vibes were experienced by all doing the right-royal business of supporting the station that supports you and our good city's musical finest to boot..nuff respect gang!
After the relative quiet and serenity of April, the Mo lads are champing at the bit to get out there and shift some air again. It's a good job then that this Sunday the 11th see's them headlining the sonic extravaganza that is "Mantle piece" @ The Newport Hotel, with the esteemed likes of Red Jezabel, Showbag, Purephase, Tragic Delicate, Jonas and DJ Haulpak in tow..yay! It's gonna' be the only Ikey Mo show this month so tell yer mutha to tell her friends! Frontguy and all-round space cowboy tunesmith Chris, on the other hand gets all lonesome on you for a rare solo show on Tuesday the 13th @ the incredibly groovy Swan basement in North Fremantle (just up the road from Mojo's), with Dima from Team Jedi and Glenn Savage from The Regents also doing the solitary man thing..tre's bon!
It's official....the Mo boys head over Sydney way in the next month or so, to record the follow up to 'Beginners Guide...' @ Sony studios. Chances are we'll also be doing a video for one of the tunes while we're there as part of the deal...stay tuned for more on this soon, good people.
Finally, chief tub-thumper Gary is 'Sexy Mo boy of the week'. His youthful good looks, solid playing and ability to switch in the blink-of-an-eye into that most rawk of superheroes "inappropriate guy" is quickly becoming the stuff of legend. Nice work Gazza, my man!
May the fork's be with you,
Awesome guy.